We just wanted to take a minute to let you know some of the things going on at The Runner between now and the end of the year.
The Christmas decorations are now up all around the pub, the restaurant and The Lobster Pot – the Festive Season has officially begun!
We are serving our Christmas menu from now right through to Christmas Eve, everyday Monday to Saturday between 12 and 2.30pm and then 6 to 9pm in the evening.
Don't worry though, on Sundays we will still be serving our roasts as usual between 12pm and 5pm so call get in touch by either email or give us a call to reserve a table.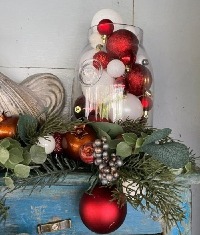 ​​​​​​​After last night's result, we now know that England will be playing Senegal on Sunday evening at 7pm – we'll be showing it on all the TVs and we're expecting a full house.
And here's the big news (drum roll please)… on Sunday December 18th straight after the World Cup Final our resident DJ legends, Mick Brown and Neil Long will be joining us to spin some festive (and hopefully some non-festive) tunes from 6.30 to 10.30pm!
So, whatever happens with the football Mick and Neil are sure to brighten up the evening and put a smile on everybody's face.
We hope to see you over the Festive period for a bite to eat or even just a drink but if there's anything you need to know, please don't hesitate to get in touch. Email us at info@therunningmare.com or call us on 01932 862007 and don't forget you can see our Christmas menu here.
Best wishes and see you soon
Ollie and the team