Don't say it too loudly but it's nearly time to start thinking about Christmas and here at The Runner we've been busy making our own plans for the festive season.
The kitchen team have been hard at work creating the 2022 Christmas menu which you can see here, with a brand-new selection of starters, main courses and desserts. As always, absolutely everything will be prepared and cooked in our kitchen by the team, ensuring the freshest, tastiest, locally sourced Christmas menu you could wish for.​​​​​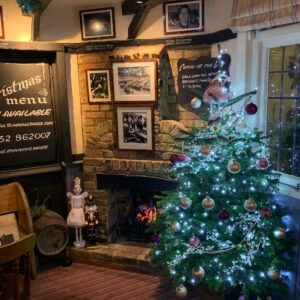 ​​​​​​​This year there's a choice of 4 main courses with something for everyone, chose from the classic Christmas turkey, a delicious fish course, succulent rare breed pork medallions or a beautiful vegetable Shepherds Pie. The full menu is at the end of this email.
​​​​​​​We'll be offering our Christmas menu from the 28th November through to Christmas Eve, every day Monday to Saturday between 12 and 2.30pm and then 6 to 9pm in the evening.
As always, we're going to be very busy at this time so if you are looking for a venue for your office Christmas lunch, a meal with friends or a festive family feast, get in touch to book a table. You can call us on 01932 862007 or email us at info@therunningmare.com
We look forward to seeing you very soon
Ollie and the team